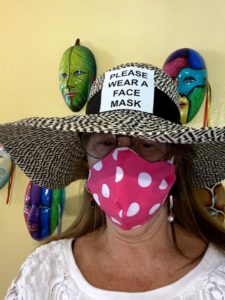 Can you believe it has been eight months since we chatted about sewing? So much has changed in my life, in our nation and the world!
This year started out so well for me. Early in January I received and accepted an offer on my house. After 18 months of widowhood I was ready tor some positive forward motion. Thinking that this transaction would be smooth sailing and that I would be on my way to my new life in a month I packed up my sewing room first.
My sewing room became the staging room for most of my boxes. The closing dragged on. My hands were twitching, my heart was aching, I needed to handle fabric, to sew  to create. In mid-March I watched as my 58 boxes filled with the precious contents of my sewing room, my fine art, my pottery, and some household goods were loaded on a truck bound for San Diego. I would not see them again until June 9th.
Here we are together again at the end August! So many of you have sewn lovey garments. And most of you answered the call to sew masks and other PPE for our essential workers. I am so proud of all of you, my sewing sisters. You stepped up and answered the call. I felt useless at a time when I was needed.
By the time that my sewing room was set up and ready I thought that the need for masks would soon end. Sadly, I was wrong.
I decided to make some masks. My family quickly asked me to make some for them.
After doing a quick online search I settled on MimiG's pattern. Just making masks from pretty fabrics was not enough for me. I lined the masks with muslin. I did that so I could embroider loving messages inside. It was my act of love. Everyone loved them. People that could not sew asked me to make more for their friends and extended families.  Finding prints amid my stash to fit the personalities of all of the recipients became a challenge. Then my son asked for black masks. He is a lieutenant with LAPD and was required to wear black masks. Knowing that his would get a lot of wear and tear I made him seven masks. I embroidered loving messages inside. There is not much that a mother can do to keep their 50 year old "child" safe. But this felt good.
All in all I sewed over 100 masks. A couple neighbors were nurses and teachers. I made them five masks each. I handed some out to other
neighbors.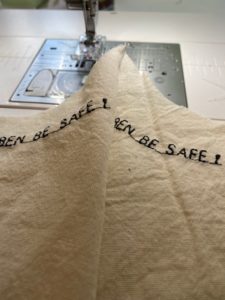 This  post is short. I am stretching my blogging muscles. Soon I will be sewing new clothes for myself. And maybe entering a contest or two.
For now I feel good. During WW ll our mothers had ration cards, and made Victory Coffee and sewed blackout curtains. Our fathers faced the fear and deprivation of battle. I have done my part. And if need be, I will make more masks.  We battle an invisible killer, the virus. And we battle selfishness and stupidity by those that refuse to heed warnings from scientists and exercise the simplest action to protect their neighbors.
I am back! Living in isolation  in a new home in a new state, Florida is a big adjustment. My sewing and writing will carry me through. I look forward to hearing from you.