Yellow bird, up high in banana tree…
 I love yellow!
I always have. I went through my "mod orange" stage as my mother dubbed it. I have always worn lots of purple, fuchsia and turquoise. They are gorgeous rich colors. But I LOVE YELLOW.
I always wanted to live in a yellow house. And this current house that we built back in 2015 is yellow. And my little VW Beetle is sunflower yellow.
Over my sewing life I have made a few yellow ensembles. I remember a pair of yellow flowered jams back in the summer of 1967.
Then there were the flowered culottes and jacket with an intricate pattern that I matched perfectly. This outfit was part of my entry portfolio for F.I.T. in 1968.
Sometime in the early 80s I made a drop waist dress with a gathered skirt and puff sleeves in a lemony yellow and white print.
About 60 lbs ago I made a print skirt with a lot of yellow in it, and a yellow v-neck tee.
All of these garments are long gone. Isn't it funny how we can remember things that we made 35-50 years ago? OK maybe it is just me!
This summer I decided to make a capsule wardrobe in yellow. Yellow is a happy color. And when I wear yellow, I receive gushing compliments.
Oh, I just remembered a yellow knit cowl top that I made several years ago. I was at the farmer's market, and several vendors stopped me to say how lovely I looked in that color.
Back to the present.
Saw this lovely Waverly home dec fabric at my favorite shop. It reminded me of another fabric very much like it that I had used for many things, and another memory jog, a sundress!
I purchased my standard three meters. That way I would always have enough for whatever I decided to make. I had intended it for a pair of pants. I thought I would look hot in flowered pants with my new slimmer shape. However, even after all of that weight loss I could not get a perfect fit in my pants. More on pants fitting coming up real soon.
The urge to wrap myself in sunny yellow, lemon yellow, printed yellow just yellow. came over me.
Since I had made the Lutterloh wrap skirt once already, I decided to use the pattern again for my skirt. Again I hemmed all that flounce with my rolled hem foot on my machine. It is a more elegant finish than a serged rolled hem.

Now when I draft my Lutterloh patterns I use only a 3/8 seam allowance. I still measure the flat pattern and pin fit. But once I have done that and made any of my usual adjustments like short waist, shorten pants or skirts and sleeves I know that the garment will fit perfectly. The 3/8 seam allowance removes the need for clipping seams and cuts down on bulk.
I paired it with a buttery yellow knit top. I used the Ballet Neckline Pamela's Patterns Perfect Tee. I like the ¾ sleeve option. Pamela's Patterns are also no-fail patterns for me. I use only a ¼ seam allowance with these patterns. I will often go on a cutting binge and cut out several tops . Next day I will sew them all.So much fun to have a bunch of pretty tops that fit me perfectly and go with my skirts, shorts and pants. And I often buy my knits on the flat fold table where I can get a big piece for only a few pesos.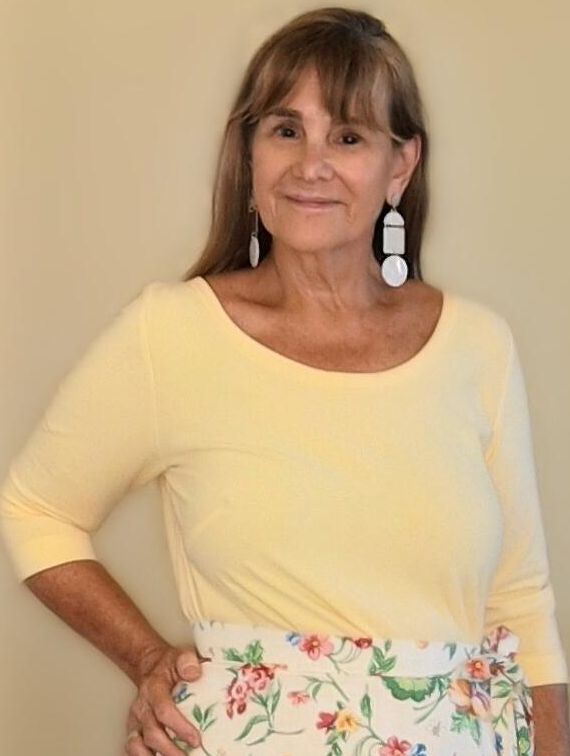 Then I saw this lovely asymmetrical neckline Lutterloh top, and just knew that remnant of yellow gauze that I saved form a failed project would be perfect.
The neckline is feminine and sexy. The cuffs elevate the style.
(Hey don't tell anybody yet, but I plan to make this top again in black with white cuffs.) I paired the top with my Pamela's Patterns Perfect Pencil skirt pattern. This crisp white fabric embroidered with palm trees is beyond perfect for a cool tropical look on a hot tropical day.
I did make another top from a pale yellow linen with a flounce made of the Waverly print. And I made a skirt. The combo looks like a dressing gown! Boring just boring.I do not have the heart to toss them out. But you will NOT see them here.
With winter coming any day, I will be needing long sleeves and pants.
Stay tuned for more on pants fitting.
As I am writing this I am sipping ice water from a bright yellow tumbler.
Keep Sewing.
And hey, please leave a comment.