Susan Hacks a Gauzy-Pink Calypso Blous
I have always loved the look of a blouse or shirt tied at the waist. There is a Harry Belafonte album cover that my sister had waaay back in the late 50s. Bursting from the cover was Harry Belafonte in a white shirt unbuttoned all the way down and tied at the waist. He was wearing crop pants and looked so gorgeous. I was and still am entranced by that image of him. And guess what? I researched and dug around the internet looking for such an album cover and could not find it! Now I wonder if it existed outside of my then nine-year-old memory…
Anyway here is my pink gauze Calypso blouse. Whether this name is accurate or not matters not. It evokes for me the tropical beach casual of the 50s and 60s. I am not into the whole enchilada of retro. But some styles like ankle pants, ballet flats, blouses tied at the waist please me.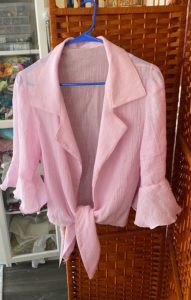 The April Pop-Up Sew Along on Pattern Review fit right into my Spring sewing plans. The brief was a woven blouse. I sew mainly with woven fabrics and I have a list of blouses that I want to make.
Back last summer I made this blouse in a blue and white striped gauze. You have seen that already. For some reason I could not fine the pattern that I had drawn.
First up  on my blouse list is this light as air and icy pink in color gauze tied at the waist blouse. Doesn't Calypso set the tone better than tied at the waist?
I have many many Lutterloh supplements on  my hard drive. In a fit of efficiency, I scanned a bunch of patterns. BORING. And a royal pain to scroll through  all of those patterns.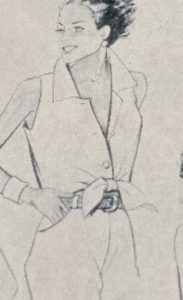 Here is the actual pattern that I used as the base. As you can see it is sleeveless. Because it is sleeveless and the original blue and white  blouse has sleeves, I was searching for a pattern that did not exist.
Finally, I remembered that I had posted the blue and white one on the Lutterloh Facebook page. I learned a new skill: I learned how to search for my photos on Facebook.In the post about that blouse I had listed the supplement number 212 and the pattern number 54! I went back to my hard drive and discovered that the sleeveless number I kept passing up was the very same pattern. It was one of those lightbulb moments! I remembered that I had used the sleeve from another pattern, and the flounce from another and made the blouse I am wearing here.
Gauze is lovely to look at. Delicious to wear and a bitch to sew. It stretches like crazy, Pressing it takes out the crinkles. Not only did I have to taper the bodice and sleeves by 2", I hand washed and then tumble dried the finished garment to shrink it and crisp it up a little.. Then I pressed only the interfaced collar, lapels and ties. Everything else remained soft and crinkly.
Last Christmas I made the accompanying skirt. I knew that I wanted to make a summery blouse to go with it for lovely evenings out. The lightweight gauze would be enough to ward off the chill of arctic air conditioning. But the featherweight gauze would not be too warm if we were outside.
I did find anther Lutterloh supplement. Number 213 pattern 161. Before I had found the pattern that I had originally used I thought that this would work. I drafted the front piece. Held it to my body and realized it had an exaggerated drop shoulder altering it would be a struggle.
BUT I did use the flounce for my blouse. I shortened the flounce by cutting off an  inch from the inside curve.. And then I used my rolled hem foot to finish the edge. I could have used my serger, but the tiny, rolled hem is a higher end finish.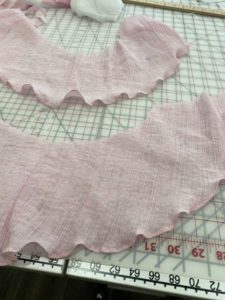 I wore it to Easter services at the UU Church and then out to brunch. I felt pretty, stylish, cool and comfortable.
Here is thee first version of this blouse that I made last summer. I did not have enough of the gauze fabric so i made the facings in white linen. It looks nice, but the two fabrics did not play well together!
I have done a lot of sewing in the last year, but I have been lazy about reviewing and blogging about my projects. i have made a video of all of the items that i made. i have to edit it and set uo a new channel for Susan Sews Daily,
My promise for the coming year is to blog and vlog regularly.