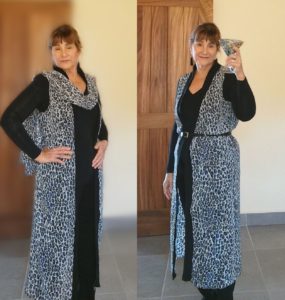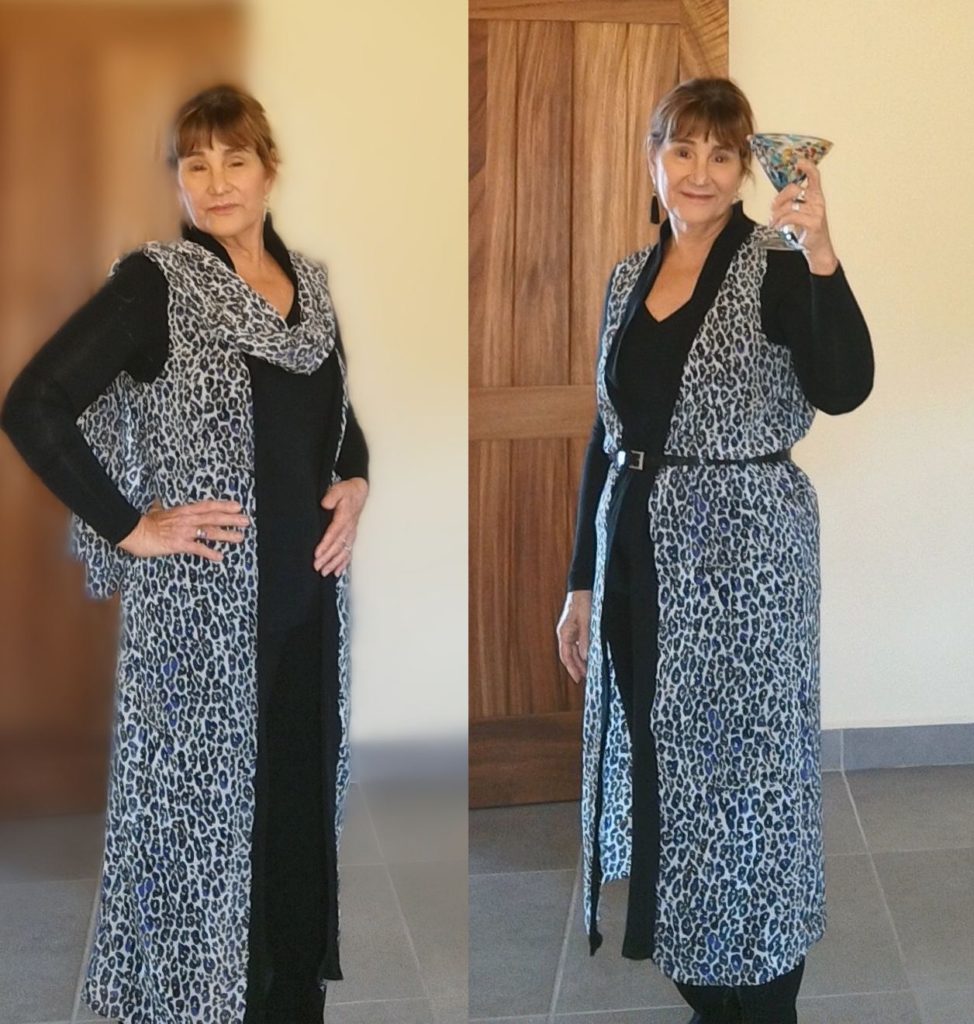 Jungle January. A nice alliteration. Many places in the sewing blogosphere there are competitions or just sew along activities where the participants make clothing with animal prints or animal themed fabric. Over at theSewingPlace.org.uk a competition is underway called Jungle January. The brief was simple and broad: make a garment with an animal print and tell the others about your project.
There is no prize just the kudos of having garnered the most votes.
When I write a pattern review, a blog post or enter a contest I put in a lot of effort.
After making a beautiful garment, I then must photograph it. That means putting on make up and choosing the right accessories.
But first I think up a back story. Then I style the garment and set the stage with props.
The photos have to be edited and uploaded to a sharing site, and then the links copied. It is time consuming. But I do enjoy it.
Do you know what drives me crazy? People that enter contests and submit photos with their phone or tablet in the photo. They take them in messy bedrooms, or bathroom photos with the toilet seat up! Then there are the kitchen or living room photos with nothing interesting in the background. These are contests people! This is a competition! Time to pull out the stops and woo the judges.
Enough already! I am just a little bemused and a lot aggravated by the lack of effort in contest entries.
 Well on to my project:
So to remind you, the brief was to make a garment with an animal print.
The pattern is Lutterloh supplement 315 pattern 125 from the most recent release.
It is a duster length vest with a gathered blouson waist and contrast trim. It also is pictured with patch pockets. I did not like the look of the pockets, so I left them off.
The main purple and black "cheetah" print is a poly chiffon. The contrast trim is a cotton Lycra knit. I chose it because it would give a crisper finish and keep the vest from looking like a sack.
Here are views of the finished garment that is perfect for wearing with jeans . The vest ups the style of the jeans but is not heavy and stiff for shopping. (note: Sears is a high end store here) And it gives a little touch of street cred.
I like versatile garments that can be worn several different ways. With a change of top and bottom to elegant black and the addition of a scarf this vest becomes high style it is  ready for cocktails at 8:00or a nice dinner out. In fact I am going to wear it for the annual Mutt Strut, a fancy fundraiser for our dog rescue group Baja Dogs. The adoptable dogs are decked out in their finest sombreros, ponchos and dresses to wow the attendees. My vest over black with the scarf will be perfect.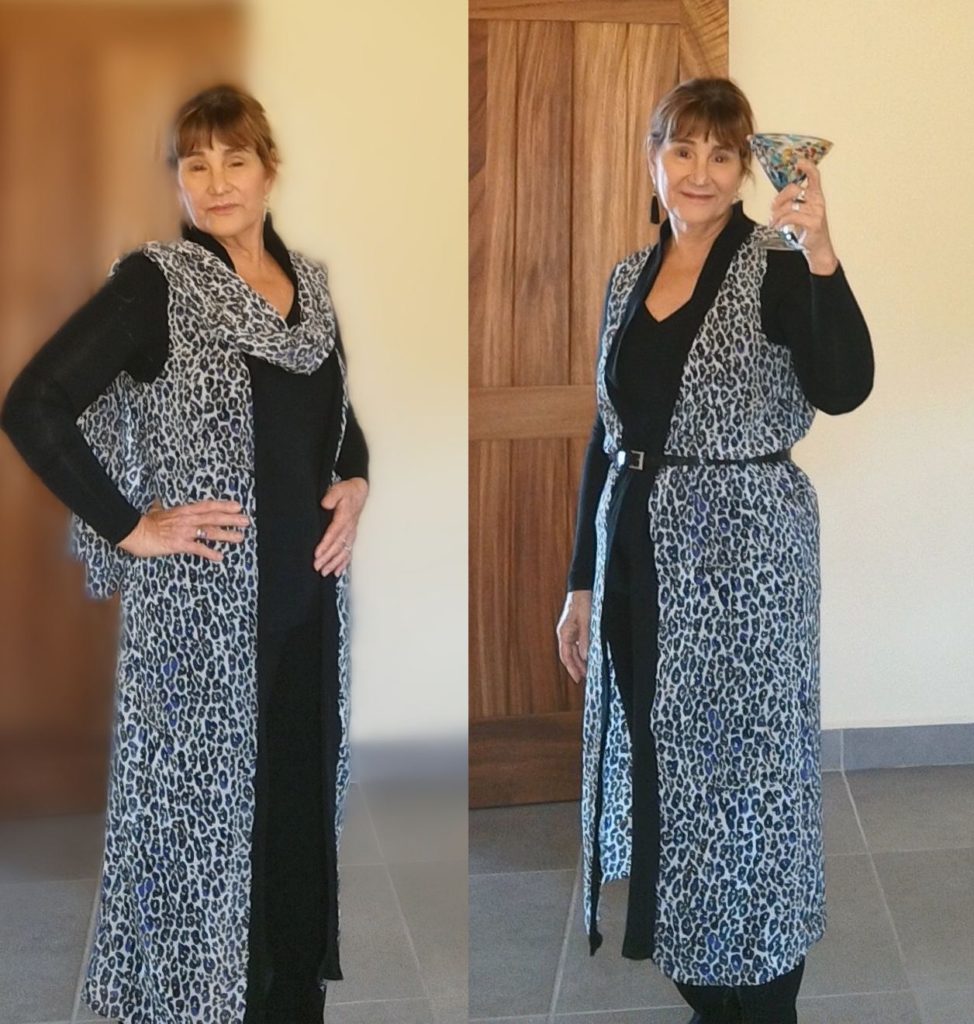 You know what else I like? This vest is light as a feather, it will be fun to wear over white duds in summer, and it will blow in the breeze. Can you say romanitco?
The bodice and skirt are both slightly gathered at the waist. With the addition of a belt as shown on the fashion illustration it becomes a blouson. This is not my favorite look. But I have shown it belted to illustrate the blouson effect.
Here are a back and side view to show the gathers.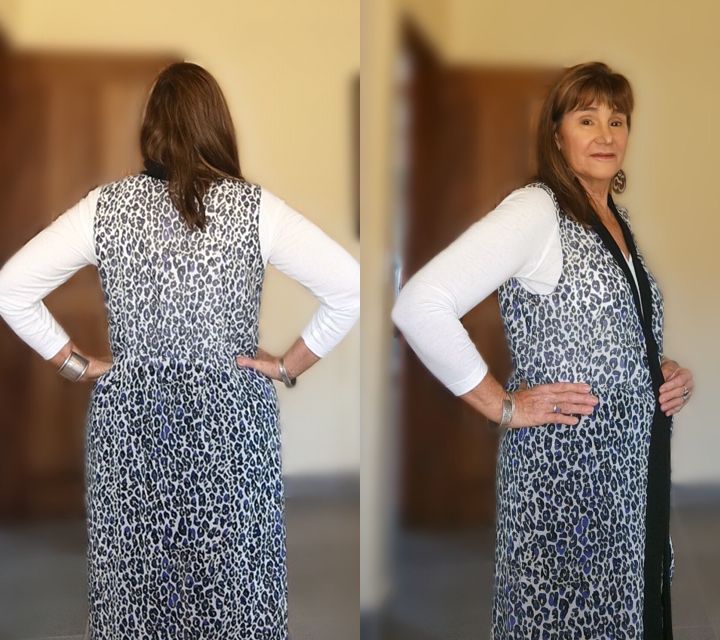 I basted all of the seams and then used a four thread overlock stitch on my serger. To finish the armholes, hem and scarf I used a narrow rolled hem. Since I did not have any French nuns around to hand stitch the hems, I used the rolled hem foot on my sewing machine to finish the armholes, hem and scarf. And I would have lost time liberating the nuns from their heavy, hot habits, and sticking them in bikinis and teaching them to surf!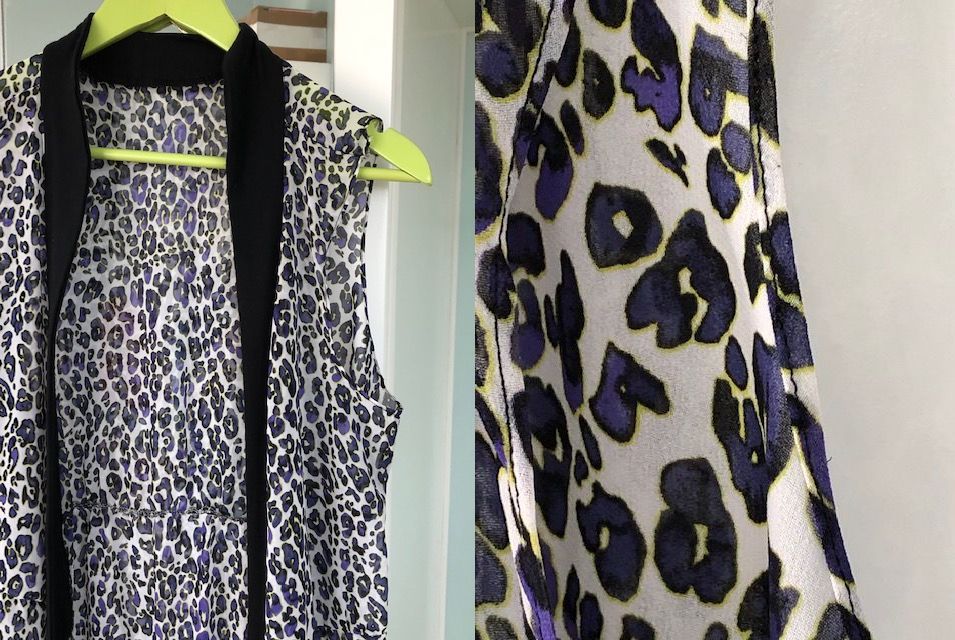 Once you master this technique it is so much fun to do. This is a more professional and higher end finish than a rolled hem on a serger. Here is an image of the vest armhole and a closeup of the stitching.
I really had no issues with this project. The poly chiffon could have been a nightmare, but it was very cooperative.
This appears to be a simple garment, but it took a lot of time. I sewed slowly to keep the fabric under control.
I used the straight stitch needle plate on my machine. That eliminated the machine gobbling up the fabric at the start of a seam.
I hope that you like my vest as well as I!