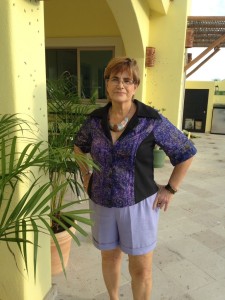 Sew,
I had decided to enter the Pattern Review Sewing Bee challenge. The challenge was to make a fitted blouse, and to also use creative touches to make it our own. This contest looked like great fun, and I was ready.
This challenge was intense and was to be completed by Monday September 7th, it started on September 1.
. My pattern of choice was a very lovely fitted Lutterloh blouse.
When I looked at the fit of the back on the mock up, it was loose and drapey. I panicked. I am not accustomed to pattern fails.
So I stopped sewing and dropped out of the contest. I immediately contacted my sewing mentor, Sarah Veblen to set up a consultation to make a bodice to fit my changing body.
I could have reverted to a TNT ( tried and true) pattern, but felt like that was not stretching myself.
Then after seeing all of your (over 100) lovely entries, I reconsidered. I decided to make my TNT blouse, which is this one that I am reviewing today. I decided this on Friday evening.
But I did not get going until the last day, Monday. On Saturday I planned
cut and mark the blouse.
Here it is Lekala 5114 a princess seemed blouse that lends itself to color blocking.
Actually marking was a nightmare. Nothing, not one of my marking tools would work with the batik fabric. I could not draw a good seam allowance line. So I decided to eyeball it cutting on an imaginary 3/8″ line.
I fused the collar and cuffs and started to sew.
I had three interruptions. On Saturday, the electrician came to add the extra outlet I needed in my new sewing room.
I started to sew on Sunday, but there was a thunder storm, with intense lightning so I turned off all of my machines and went for a swim.
I stopped sewing.
On Monday,
the last day I psyched myself to sit and sew. I have made entire wardrobes in a day, well those days were back in the 80's!
Since I had eyeballed the seam line, the collar did not match up well. I retraced the collar, fused on the interfacing and applied it to the blouse.
I put the machine on the slowest speed and painstakingly sewed the top stitching. Then I used some Stitch Witchery to hold the blouse facing in place for stitching in the ditch on the shoulder seam. I could not figure out why the facing was not sticking. Then I smelled that icky scent of melting interfacing. I had ironed the stitch witchery directly and now had a gummy mess on the iron soleplate. I had to empty the iron, and then clean it with that goopy stuff that smells like oven cleaner.
Side note, even though iron cleaner smells like oven cleaner, DO NOT substitute one for the other. I ruined a very expensive iron with that brilliant idea!
I soldiered on, I wanted to be part of this challenge. I wanted to complete the blouse, take photos and write a charming and entertaining review. I had to be done with my review posted on Pattern Review by 10:00 p.m.
I inserted both sleeves, and the sleeve band on one sleeve.
I had only to apply the second sleeve band, hem the blouse and make button holes and sew on the buttons, all things that my gorgeous Janome Hotizon 7700 can do.
It was 6:30 p.m. I did not even hear my beloved come home.
When he arrived, I looked at the clock, and at my remaining work, and gave up.
I let the blouse sit for a few days, and finished last Thursday. I got up early, had my pre-sunrise swim, drank a Lungo Intenso espresso and headed for my sewing room.
I finished the blouse. Pressed it, jumped in the shower and raced to town to meet my coffee friends.
I also made the shorts that I am wearing in the photo. They are adapted from my Eureka! Pants That Fit Pattern.
The photos were taken on Saturday morning sans caffeine. We were leaving for town to meet friends at Cafe Zoe for our usual Saturday morning breakfast.
I like the blouse.
The batik fabric is one from my stash that I have had for decades. The black linene is part of my huge amount of black linene.
And the buttomns came from eBay they were billed as "New York Designer."
All in all I like my outfit, and I have wor it a couple of times.
I am still working woth Sarah to perfect some of the fit issues I have had in bodices of late.
PLEASE LEAVE A COMMENT. I love to hear from you.