Okay, I know, I have not been posting here.
BUT! I have been sewing.
Before I tell you about what I have been doing.
Let me catch you up a little on my life.
 On April 27th I had my third and most successful corneal transplant. My vision has returned and is improving daily. do not expect perfect, error free typing. As my darling MissMeliss is happy to point out, my vision may have improved, but my typing has not! I no longer take mincing steps. Stairs do not scare me and I do not need to be guided by friends when we walk around town! I feel free!
I followed Dr Hyman's 10-Day Detox Diet and lost 10lbs in 10 days. I am still losing and looking  and feeling better. When the  10 days were up, I switched back to the Blood Type Diet. I am eating well and feeling good.
I have cleared my kitchen and my system of gluten, dairy, sugar and many other food items that are not good for me.
Do you like my new sewing labels?
(that's one of them up top!)
I have not had sewing labels for several years. Since I am now making  all of my clothes except  underwear and bathing sits, I felt it was time to  reward myself with new labels.
I asked a question on Pattern Review about label companies. Those enablers jumped right in with recommendations and the link to
This company makes it so easy; giving you templates, art and fonts to play with. I played around with my idea and then clicked BUY and the damage was done. Another friend from Pattern Review followed me there. She ordered labels on the spot. She said "… I did not wake up this morning thinking that I needed to buy labels…"
Here is my Christmas Eve 2016 outfit. Well part of it!  I wore the silk tunic. But I never finished the  fuchsia pants. I had gained weight, and even thought these are my Platinum Pants pattern that are supposed to fit perfectly every time…well I could not get them on!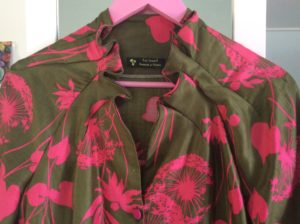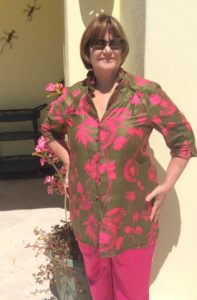 I was bummed, pun intended!  I had really put on the pounds. The blouse that I have made twice before was tight everywhere. I wore it anyway. Most non-sewists don't really understand fit. I wore the top with some camel colored pants from Chico's that I could just about zip.
Just for fun today, I tried on the pink pants. They fit! They could be a bit looser. But I have come from not being able to pull them up to having them fit. The top looks and feels nicer as well.
Christmas Eve in a Mexican home is a grand occasion. A big, formal,  turkey dinner is served late in the evening . The kids are  wound up tight and can barely wait until midnight to open their gifts! This was our second year celebrating at the home of Ann and Fernando. They have dubbed us the American wing of the Garcia family. Miss Meliss and Christopher joined us.  They loved it as much as we did.There were 11 of us at dinner . Ann used her Christmas dishes that are just like mine!
Dinner was at  8 and the kids opened their gifts at ten. We were home snug in our beds a little after midnight. I was truly touched that our friends changed their schedule so that we would not fall asleep in the soup!
The pants are not pressed nor completed, but I  put them on for these photos. The blouse is heading toward the "too loose" stage. I am NOT complaining. I love the fluted neck. This blouse has 14 darts. But it is really not difficult to make at  all. The fabric is a lovely silk that I have had for years. A neighbor had called and asked if I sewed with silk, I said "Yes." and she responded with:
"Well that is a good thing. I just tossed over your gate  about 3 yards of a gorgeous silk that I hoped you would like!" The perfectly matching pink covered buttons are some that I inherited from a friend that decamped back to Canada!
Here is another photo of me in the blouse with the pants. And here is the pattern. It takes a lot of imagination to see this pattern as stylish and interesting. It fits well and the instructions are perfect. I even purchased the video to watch Sandra make the darts. You do not need it. But you also do not need to hand baste the darts like the pattern instructions say. Just mark them well and follow the markings and you will be fine.
. On Christmas Day we were invited to have breakfast with  Gari-Ellen (Canadian) and Ramon and their 4 kids. Ramon is an Emergency Room doctor. so even though breakfast was scheduled for 10:30 it was more like 11:30 before we ate. And the presents remained mostly untouched until Ramon came home.Those kids tore through their packages in five minutes!
We feel so blessed to  have Gari-Ellen, Ramon, Molly, Hannah, Jack and Gigi as part of our family.
Here is what I wore for Christmas Day.   Christmas morning is always more relaxed. I made this lovely Bishop sleeved Lutterloh top and paired it with some of my remaining RTW pants. I have been sewing nerr 100% of my clothes for two years.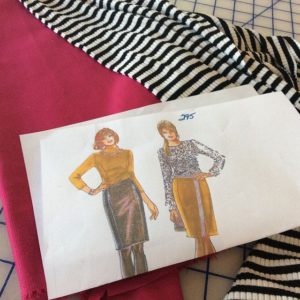 I always convert round neck tops to V-neck. they are more flattering  on me. I like the cuff which I made deeper and the full sleeve that I also made fuller to have a bishop sleeve look. I do not actually have a battleship chest. That is my other arm in the photo making me look  bigger in the boob area than I am!
Byu the time that this photo shoot was over I was knackered from the heat. I am very proud of my weight loss. I have FORTY more pounds to go. I am just making good choices with every meal. And I love that my clothes are fitting better. And my new projects are a smaller size!
Thanks for sticking around. I shall be posting regularly. I have lost of things to say and to show off!
Besos…