GRRRanimals, for Seniors!  Another Lutterloh Blouse
When I was laying out this fabric, I was checking to see if it was a one-way design. That is when I spotted the blue and green iguanas hiding in the flora!
My friend Kass was delighted by this and said it was like wearing GRRRanimals again! Do you remember them? They were coordinating kids clothes that had alligators or hippos on them. A child could  simply pick a top and bottom with the same animal and know that they matched. I did not wear GRRRanimals. My daughter did. Kass is older than MissMeliss, but younger than me.
I think that Kass still wears clothes with elephuns (her word she is a smart person, she just likes to write funny) and manatees on them, just sayin'.
MissMeliss loved them when she was very young. She can coordinate fine without cues.For now. Watch out for that icky word aging.
I decided to add tabs in the iguana print fabric fastened with a button to match the yellow and white polka dot shorts.. So now, if I have a senior moment, I can simply match up the shorts with the blouse by looking at the tab. Of course I will have to know what to do with the items once I have matched them.
Okay. Enough! On to the good stuff: my blouse.
It's another two pieces in the chain for the Endless Combination Contest on Pattern Review.  I love this contest. This is the way I sew, in outfits. Not wardrobes. And since I sew I can personalize my designs, and coordinate two or three pieces. I do not have to make one item that goes with ten other items.
(Because I love black and white, I make several black bottoms and several white tops, so I have, well, several!)
The contest is fun, make a minimum of four items. Item 2 must go with item 1, Item 3 with 2, and item 4 with 3. So the color scheme and look can change quickly. What fun!
This is my second go round with this blouse. I love it. I love the classic lines, the fit. Those Lutterloh darts, the best in the world.
I wanted to change up the look a little. I was fiddling with contrasting prints for the button placket, collar stand and sleeve placket.  The yellow and white polka dots made me smile. I love yellow, and I love polka dots.
"I know!" I said to myself and my annoying Guardian Angel Suz," I will make shorts to go with this blouse. This will be so summery, happy and fun."
Suz nodded and almost lost her halo. She has a coordination problem; her halo is dented. Well not only from dropping it. I have once or twice ripped it off her head and thrown it at her when she was trying to get me to listen to her and to not make a tantalizing and therefore foolish decision.
I decided that since the yellow fabric was so lightweight that I should make them pull on, but with a knit waist band and outside angled pockets.
They are cute and will show up in detail in the next blog post.
Back to the blouse, jheesh, I am going everywhere in words this morning!
The pattern calls for a continuous lap on the sleeve placket. I have never liked that finish. So I searched the wondrous Internet and found these two videos by Angela Kane. She has a simple template and even simpler way to attach the sleeve placket. I have done it twice now and am very pleased with the result. The videos are at the end of the post. I want you to keep reading y words!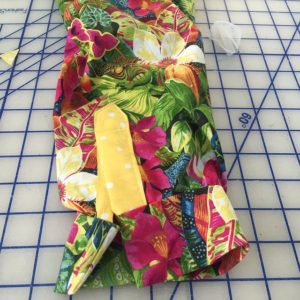 I  live in the land of palm trees, Jacques Cousteau, white sand beaches and whale sharks. Not Buttonland. Finding the proper button is difficult-to-near-impossible. What I mean by a proper button is that it must be pretty, colorful and be able to be sewn on by machine.
Sewn on by machine are the key words here. I hate hand sewing and will go to great lengths to avoid it.
In order to complete my look and the summer/polkadot/GRRRanimals theme, I needed to have yellow and white polka dot buttons. I had no other choice, I had to cover my own buttons. Are you listening in heaven there Esther? ( That's my mother).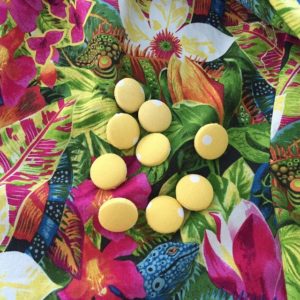 She used to pick scraps of fabric out of the waste paper can and admonish me with "This is waste. You could cover a button with these scraps!" My mother was real big on not wasting.
"Moomm, covering buttons is for old ladies. That is so old fashioned." Said I…
Well Mom, up there in Italian Heaven, reclining in a gorgeous caftan, I covered TEN buttons and since they are shank buttons, I sewed them all TEN on by hand! Happy now? Well no, being happy is never allowed in Catholic/Italianland, even Catholic/Italian Heaven. But I know that you are smiling, I can feel it!
I love the blouse, the shorts, the compliments, and that when I get really old, I can still dress myself in coordinating clothes.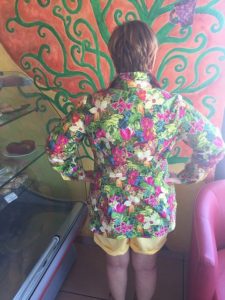 Here is the back of the blouse and shorts after sitting for an hour having coffee and laughing with friends  at Cafe Exquisito on Mexican Mother's Day. That was yesterday.