A long, long time ago,when I was living in my beach house I received a call from my beautiful daughter, MissMeliss.
" Mom! This is Melissa, I need you to sew me something."
What she wanted was a new tote bag to carry her pink MacBook in when she attended a juried writers workshop in Baghdad by the Bay (San Francisco).
"Could you do that for me?"
"Of course my darling, when do you need it?"
So we discussed dates and she sent me the dimensions of her MacBook.
I decided I wanted to pull out all of the stops for this. Even thought I design and make my own totes, I decided to see what was available online.
And I found…Lazy Girly Designs.
And there was born a love affair with these patterns, and a wonderful cyber friendship with the gifted designer, Chief Lazy Girl, Joan Hawley.
Coffee is big in our lives and among my friends here in La Paz. And my friends all remind me of their upcoming birthdays and purse needs, when they are at a party where I present the guest of honor one of my bags. And so my very first Lazy Girl bag had the most  wonderful coffee themed fabric. Here is that bag.Miss Meliss' Coffe Bag
I had purchased, back in 2007 some coffee themed fabric designed by Barbra Tourtilotte for ClothWorks called Spill The Beans. It was gorgeous. It is out of print. I still have some pieces and I guard them and use them judiciously.
Fast forward to last March and it was coming up on my friend Mary's birthday. Mary has quite a collection of my bags that I have made for her over the years. She always reminds me what she needs, and I always listen. I order all kinds of quilting cottons that represnt my friends to me. Mary loves seahorses and coffee. I was clean out of seahorse fabric , btI had some of the coffee cups and coffee beans.
I was looking at the various coffee cups and realized that they all had names. there was even a "Mexican Mocha" cup. This made the liuttle gray cells spring into action. And I came up with this for Mary: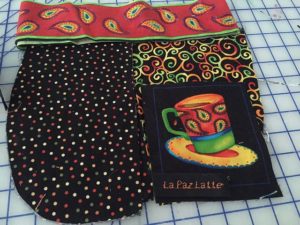 These are the various fabrics that work with this cup. I embroidered the words "La Paz Latte" on some black bias tape and sewed it over the name printed on the fabric.
Mary also likes those swirly, curly cues and even has them sand blasted on her bathroom window!
This is the Lazy Girl Lily pocket purse. The waistband fabric is a stripe I cut from another piece of the coffee fabric.  I just love the way all of the colors and prints work together.
This the inside of the purse. The orange fabrics are sone scrap linen and the pockets are well, yes, coffee beans. Joan's designs always have lots of inside pockets. And this one will hold your
smart phone and a pen.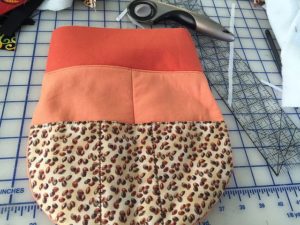 And here is Mary's finished bag. Which she loved by the way!
We live at the beach. Mary and I spend hours collecting shells. And we both love beach-themed and shell imprinted fabrics. These are some Perfect Pouches that I made using this lovely black fabric. The zipper pulls are made from shells we gathered locally. And they were empoty shells tossed on the beach by birds or waves. We never kill the occupnats for the sake of their magnificent homes.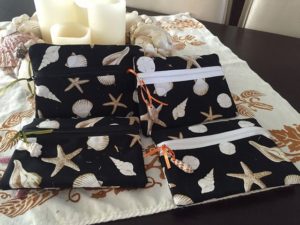 I am addicted to these pouches. These are the two most popular sizes among my giftees. I will sit down and make a dozen or more of these to have on hand as gifts. Depending on the person and the occasion I will give two or four bags. The smaller bag will easily hold two passports. I have a bunch that I made for myself to hold things in my purse. I just dump the pouches into whatever purse that I am using. No clutter, no mess. You cannot imagine how cherished these pouches are. And some friends will not-at-all-subtley tell  me that they need new pouches because they have washed and dried theirs into old age.
This past Christmas I made two dozen. And they have all found homes.
Joan's patterns and instructions are easy. She writes clearly and with a dose of humor. I love her most famous phrase:
"Close enough is good enough."
Perfection is not the goal. A usable purse or pouch with or without zippers is the end game. And Joan Makes inserting zippers into anything painless and simple. In fact she has a Craftsy Course all about zippers.
I love Lazy Girl Designs and have made many, many purses, pouches and cosmetic bags.
Here are a few that I have made as recent gifts:
And here are some that I made for myself and are a little worse for wear: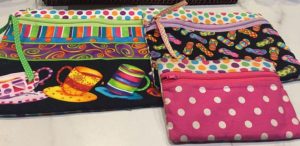 And the full moon snapped from my sewing room: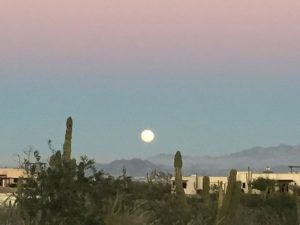 NOW, get sewing some pouches or bags!