Well it's that time of year.
That time when the sun shines every day, and the temperature rises every day, and the pool water warms up.
It is a time to wear as little as possible. And it is time to replace last year's summer wardrobe.  The reason for replacing the whole thing is that the sun, the hard water, the sweat all combine to age our clothing so much faster.
I wear mainly natural fibers, and they will fade faster than synthetics. My weight changes often, and age has changed my body shape, all-of -a sudden!
 And it is contest time.
I have joined the Endless Combination Contest on Patter Review.
The brief:
Make  a minimum of four garments. Garments 1 and 2 must go together, garment 2 & 3 must work together and the same goes for 2 &4.
These are the first two items that I have sewn, but not necessarily the first two items in the rotation. I have to figure all of that our for my final, composite review.
First up, Lekala 4158.
This is a simple tank top with some nice details. The armbands help define the shape and add interest, and offer a chance to do a little design work by switching up colors and prints.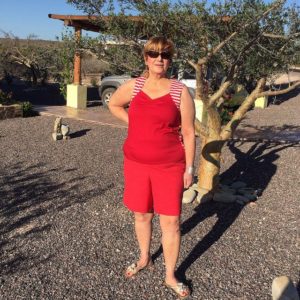 And the sweetheart neckline is achieved by stitching and stretching a bit of elastic  a few inches down the front.
The finished top looks more complicated than it is. I can stitch up a few in an hour. I just cut them out the day before.
This bright red darling is made forma fabric that my local shop calls "American Cotton Stretch". I have used this before, but it was a few years ago and my memory was that it did actually stretch. Well, no, it does not. In fact, once I beat it into submission and finally struggoled into it, it flattened my girls very unflattering.
The red and white knit fabric that I used for the bands does stretch, and I love the fabric. It is an odd shaped piece that I found on a remnant table at my favorite shop.
I added a one inch strip of the stripe down the sides of this top and it gave it a nice silhouette and I can wear it, the girls are happy, and I can take it on and off without a fight.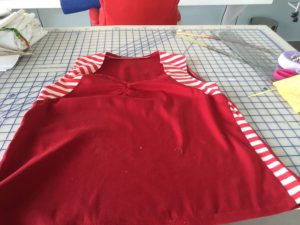 I like it.  It looks nice, dontcha think?
Lekala patterns are interesting. One enters their measurements (their REAL measurments) into the Lekala  site and they are saved in your account.  Then you choose your pattern, pay your $2.99 (yep less than $3.00) and Bam! The pattern arrives in PDF in your inbox in minutes.
Printing and assembling takes about a half hour.
The patterns fit very well right "out of the box".
There are a lot of PDF patterns on the market. But these patterns fit!
What I love is:
Patterns drafted to my measurements
Instant gratification, no waiting for the mail or to visit the US to buy patterns
Price consider Vogue patterns are in the double digits.
No slicing and dicing to make them fit.
I teamed this top with shorts made from my "Platinum Pants Pattern" in actuality they are my Fit for Art pants pattern.  I reviewed them and the process here.
It looks like I will have a minimum of five pieces to make them stay in the rotation. I am thinking  of a sixth. We shall see. Please come back and visit and leave a comment.
I want this mug:
Thanks for stopping, please leave a comment/