Mary Menz is one of my dearest friends. When we lived in Modesto  and even after my Beloved and I moved to  Fresno , California she and I used to plan a New Year's Eve dinner,cook all day and then serve two other couples. We are both avid sewists and feminists and activists. We have not seen each other since my 50th birthday bash in 2000. We stayed in touch. And Facebook brought us much closer. Her husband, Fred died two years ago. I have been urging Mary to drop some of her myriad activities and come and visit. This year she did it! She came for two weeks and we had lots of fun. And sewing was part of that fun.
My friend on Pattern Review, Annette, had become  a Lutterloh sleuth and master consumer. she could/can find patterns online, at garage sales and on eBay. I don't want to say that she is addicted, but she did buy an entire 1987 Lutterloh system TWICE. She is also very nice. She gifted me with her duplicate set. So I asked her to send it to Mary to bring to me. They from supplement  187 patterns 45 and  79.
Mary was intrigued, and said she wanted to learn more about this system. So we chose two patterns from the 1987 book that Mary carried down for me, and went to my favorite fabric store, Bonanza where Mary bought a lovely light weight floral stretch denim and a deep russet and other autumn colored challis.
Her hair and skirt are blowing in the pre-hurricane wind. The hurricane was a non-starter, but did cause Mary to delay her flight by one day.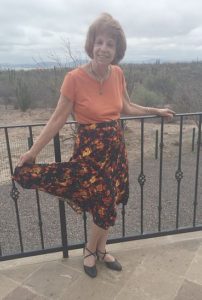 So we took her measurements and with only the briefest of instructions from me, Mary drafted  these two patterns.
The culottes have a fly front and a shaped yoke back.
The four-gore tulip skirt(center skirt on the pattern page) has a back zipper.
At first we thought there  were not enough gores, the pattern seemed small. Mary cut two extra gores and 1″ seams only to have to remove the extra gores and reduce the seam allowance. Lutterloh patterns FIT!
Mary is slim. She went to Weight Watchers  several years ago and is on maintenance  going on NINE years. What an inspiration! She also dances, studies and teaches tango. Packed in her luggage were her dancing shoes, just in case…
My problematic guardian angel, Suz with the messy hair and dented halo was nowhere in sight. I think that she was jealous. After all she would have to behave, and could not be snarky, that would (and is, as I remember from the not so lovely sisters of St Agnes school)not be the proper behavior for a guardian angel.
Mary sewed up both skirts over the course of a few days. She added side seam pockets, but otherwise made them exactly as the pattern is illustrated.Well we both decided that the slit and tabs on the lower leg of the culottes did not work with her fabric.
Mary is an accomplished sewist, but she had never seen Lutterloh before. I gave her very little guidance, actually I slept in my computer chair while she sewed. I was battling a cold. And of course, Suz would not minister to me, she just likes to criticize.
The system is elegant in its simplicity. The patterns fit, and the silhouettes are stylish. Mary is proof that you do not need any special training to pick up a pencil and draft yourself a Lutterloh pattern.
I  really like the culottes, and plan to make them in a solid denim, and use the leftovers from Mary's floral denim to make a jean jacket.
Thank you, Mary for your wonderful visit. You have inspired me in so many ways.