One Pattern Three Ways, Two Sizes
I LOVE this Lutterloh pattern. Such an elegant silhouette. The color in the fashion illustration is uninspiring. But as a sewist, a creative, a designer, I can see the beauty, the simplicity and how the design will be transformed by the fabric used.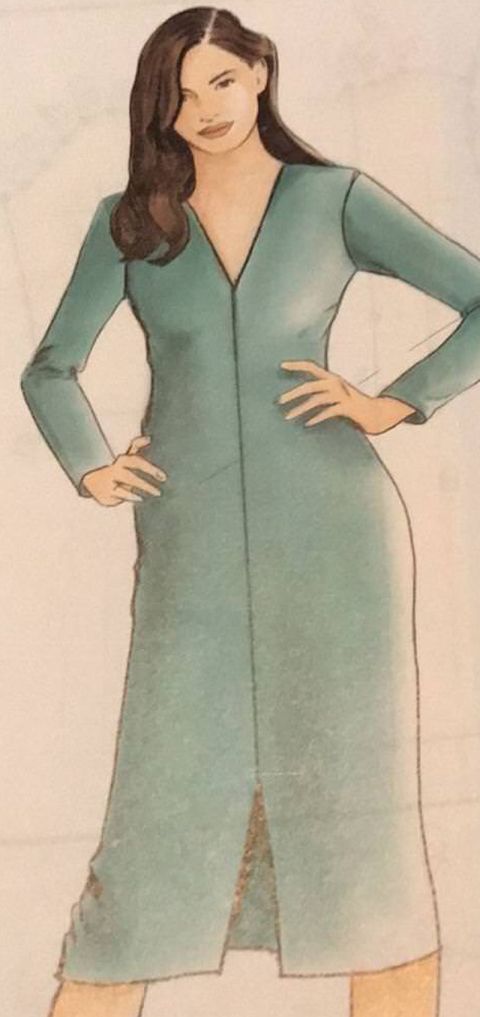 Let's start with today and go back in time.
Last year, my friend Yvonne, a/k/a Shop Until She Drops, told me that my favorite fabric store, Bonanza had an outlet in a neighborhood away from the historic center where their main shop was located. And she went on to crow about the amazingly low prices. So off we went on a safari to fabric-land.
Before I agreed to go along I had to elicit a promise from Yvonne that this would not be one of her shopping marathons. She promised only that shop, and maybe one or two stops and a final café stop.
And off we went.
Here is the fabric that I purchased. Same stuff as in the main store at a fraction of the price.
It has some sparkle and it is a fairly open weave.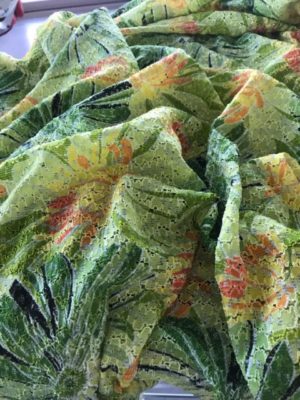 As it turns out my friends, Monica and Jaime were closing their Cabo San Lucas store. A jobber had taken the lot and was selling it in La Paz.
The fabric in its bright citrus colors is just perfect for our tropical resort setting.  I call it my tropical citrus popsicle .A lace like fabric with some stretch could be treated as a knit, I decided. The fabric is the story. And I knew exactly what pattern I would use to show off this luscious bright and cheerful piece.
When deciding on a pattern for a busy print. I study the pattern and the line drawing.
As you can see from the pattern pieces there is good waist and hip definition and a bust dart. This is perfect. Too many seams and details would be competing with the vibrant print.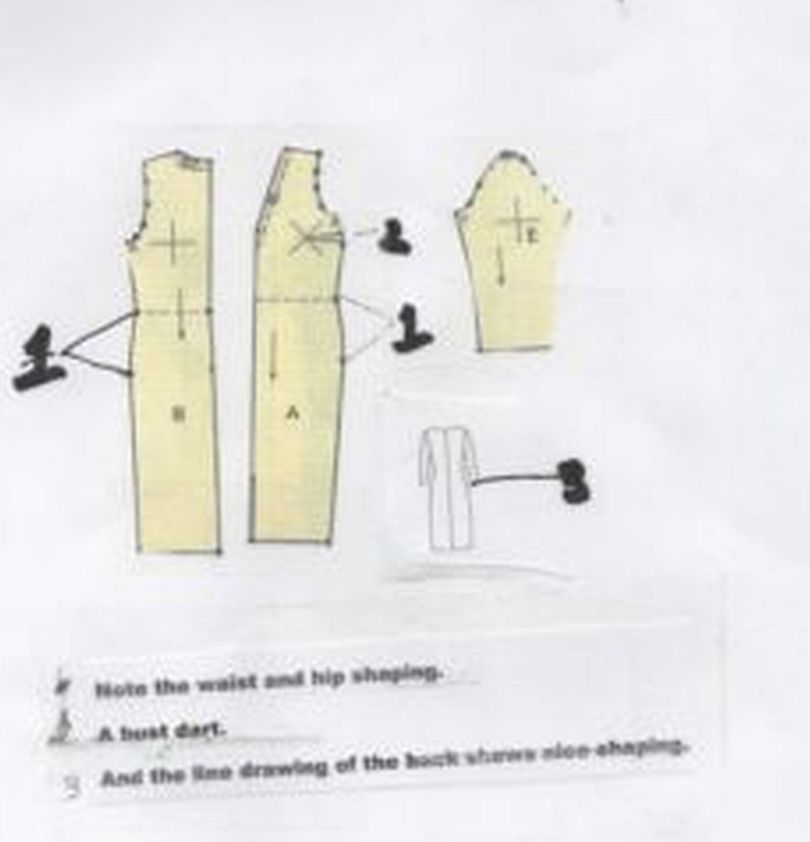 Here I am in the Tropical Citrus Popsicle version. I wore this to see Beautiful;, the Carole King musical in Dallas with my daughter. I felt young and pretty and uber cool in this dress.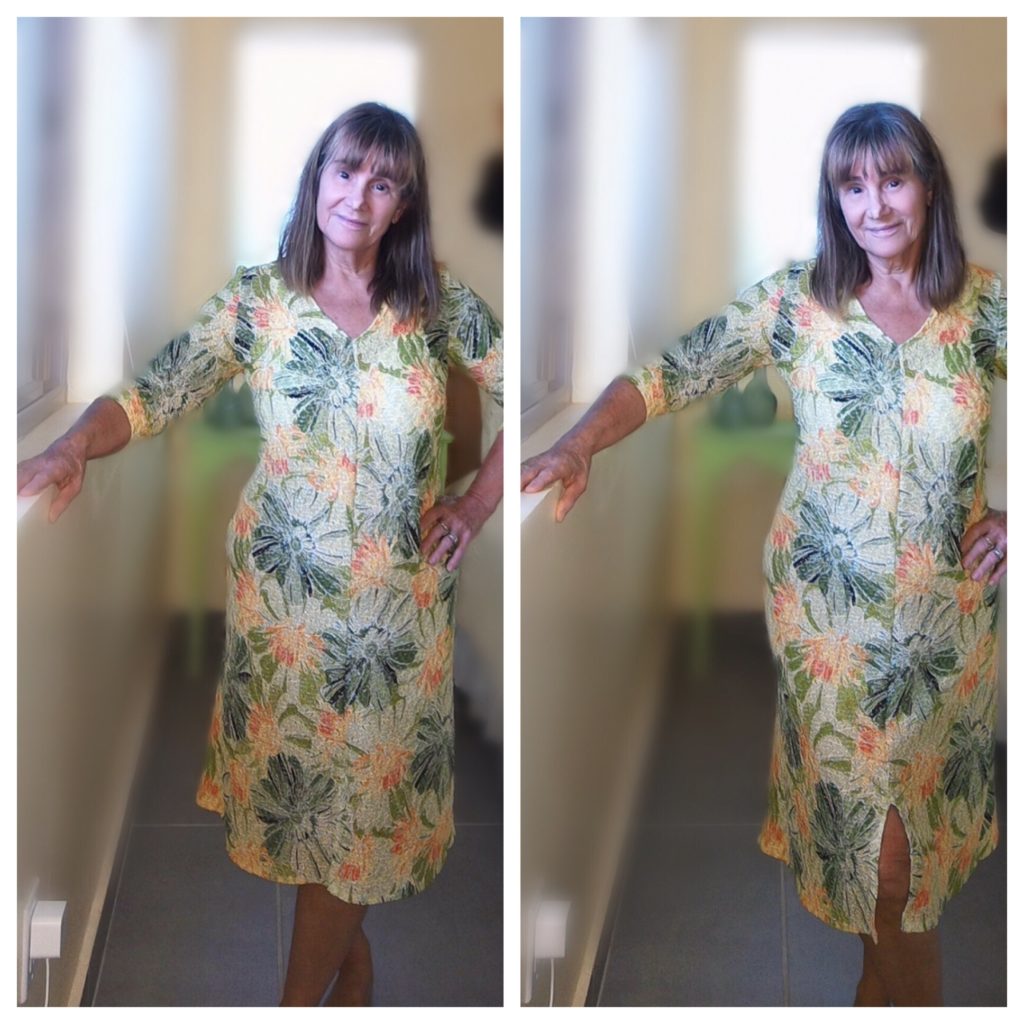 The simple lines let the fabric do the talking.
The original versions of this  pattern are what I call  my Birthday Dress. Or I could call it my Anniversary Dress. The reason is that I had originally made the dress in a cobalt blue knit as a wearable muslin. The blue was made maxi length and sleeveless. I wore it  to lunch with My Beloved for our 36th ( and

as it turned out, our last) anniversary.
This is me in the Anniversary Dress April 9, 2018. Our 36th anniversary. In this dress I needed to add a Dior dart in order to control the armhole gaping. I now know that constant gap problem that I had was because of my huge bust in comparison to my shoulders and high bust. I am happy to say, I no longer worry about armhole gaping! I was actually 10 lbs thinner in this photo than in my birthday photo!
My Birthday Dress was made in mid-calf length in a black cotton knit and with ¾ sleeves. It was 21 February 2017, I was celebrating my  67th birthday and that I had lost quite a bit of weight and was on track to meet my goal weight.
Here I am in that dress. I felt pretty, proud of my weight loss and sexy.
Well as you can see from the first photo, I am considerably thinner than when I made the first dresses.
The beauty of Lutterloh is this: when my size changes, I can easily draft another perfectly fitted garment. The miniature patterns are kept in a binder. I copy the fashion illustration and the pattern and then enlarge the copy. That way the original is always pristine. Prior to all-in-one printers being as important as a coffeepot at home, I used to fold and refold the pattern page and then enlarge the pattern.
I have hundreds of patterns, and since most pattern pieces are interchangeable, I can create garments that suit me. And that no one else has.
My tropical citrus Popsicle dress is a new draft of the same pattern. I am 60 lbs lighter and 7 inches smaller in the hip, 6 inches in the waist and 9 inches smaller in the bust. A new pattern draft was necessary!These are the shoes and earrings that I chse to wear with my Tropical citrus Popsicle.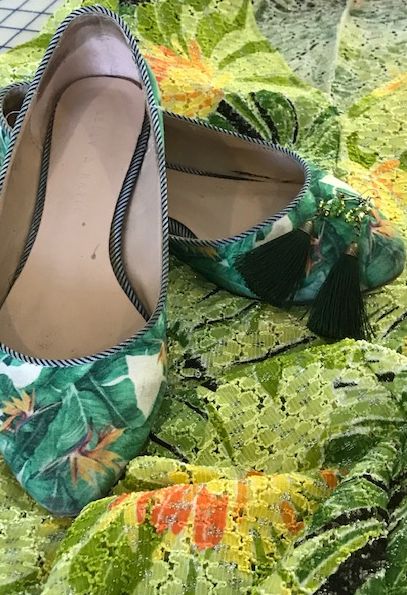 The dress in action:
Posing with my beautiful daughter for the papparazzi
And chowing down on crabs legs at the after party. Thank you Melissa for a wonderful weekend. I loved watching tis play with you. I loved all of the wonderful places we went to eat.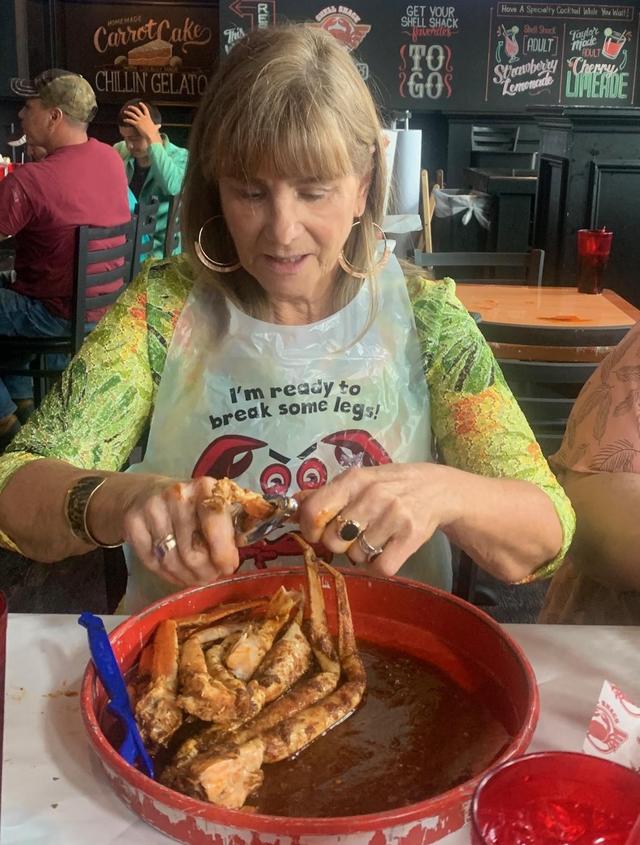 Lutterloh patterns have been no-fail perfect fit patterns for me and have been for 40 years! There are one or two pattern companies that I do use. But the large majority of my sewing is with Lutterloh patterns.
I have sewn with them when I was a tiny RTW 4m a not so tiny RTW 14, and now I am a size 6-8 in RTW. Well I think I am! I rarely buy garments!