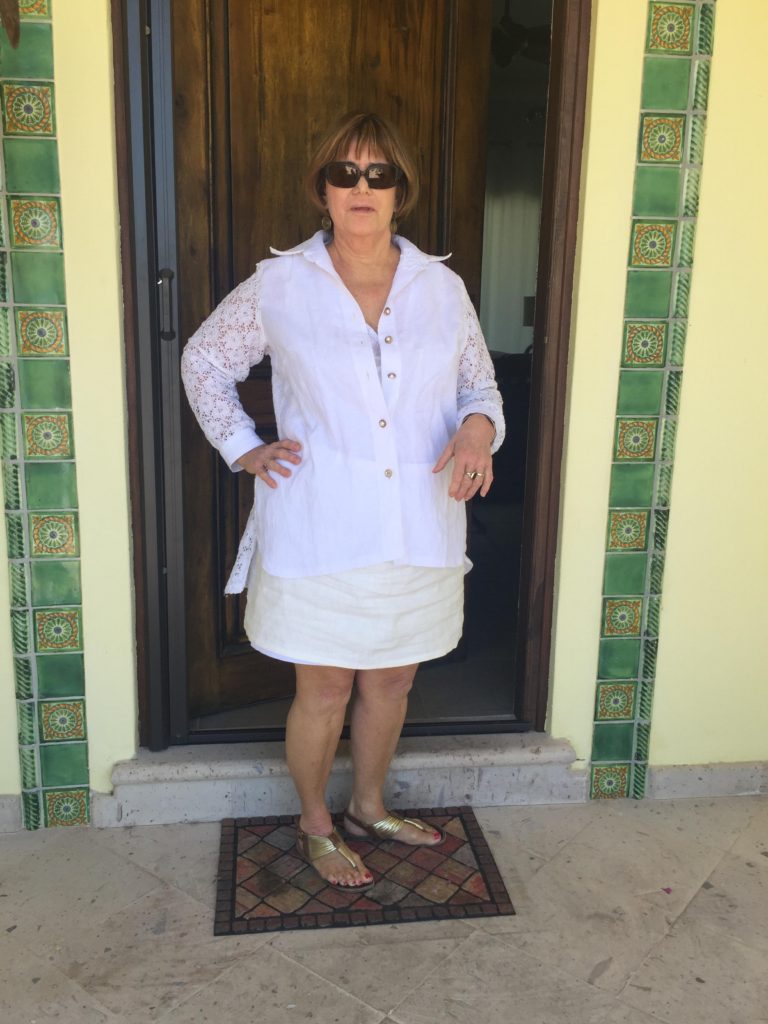 Every year for the past seven years there has been an elegant on the beach charity event called The Taste of La Paz. I have always wanted to attend. And one of the charities is a hot breakfast and scholarship program for poor children. This program is dear to our hearts. It has been a tradition for attendees to wear all white.
I love black. I love black and white together. I also love lots of color and beautiful prints.
Today's post is all about my dreaming of an all-white wardrobe. I live in a seaside desert that is also a resort. All white is fitting for my locale. And personally problematic.
However. I spill a lot and coffee stains unless you whip off your clothes and immediately soak them in cold water. Hard to do when you are in a café across the bay from where you live! And then there is the well-known fact that white is NOT a slimming color.
Additionally I have atopic dermatitis. My skin gets itchy, I scratch, my skin bleeds.
So what to do?
One solution as I have previously posted.( No it is not to wear a bib)  I had a corneal transplant and now when I lift a cup or fork, I can get it to my mouth without mishap. Most of the time.
I have been on a weight loss program, and it is true the white outfit is not particularly slimming, but the skirt is already too big, and I sewed it on May 2nd  or 3rd! And with my new eyesight and continuing weight loss I made the decision to be mindful of my scratching, and to slather on lotion instead of scratchin. My skin has cleared.
I have also been dreaming of making a blouse a lot like this one that I found on Pinterest over a year ago.
Lace in small doses appeals to me. And I like the mix of lace and linen.
I turned to my TNT (Tried and tested) Lutterloh blouse pattern. Notice that it has a slight HI-LO hem. I made the entire blouse longer and exaggerated the length in the back.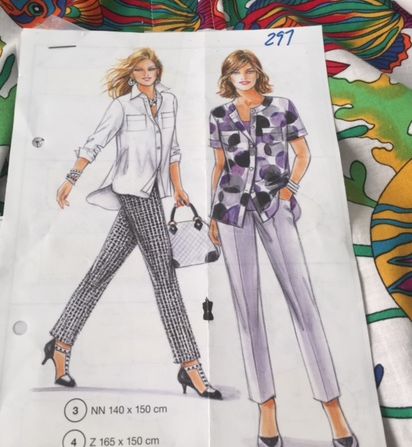 The front of the blouse is tissue linen.
The back is white cotton batiste with the lace overlay.I made the darts in the batiste only.  That way I would have waist shaping, but the  lovely design of the lace would not be distorted. And my bra would not show. I am not a modesty freak. But the hard line of a bra distracts from the lace.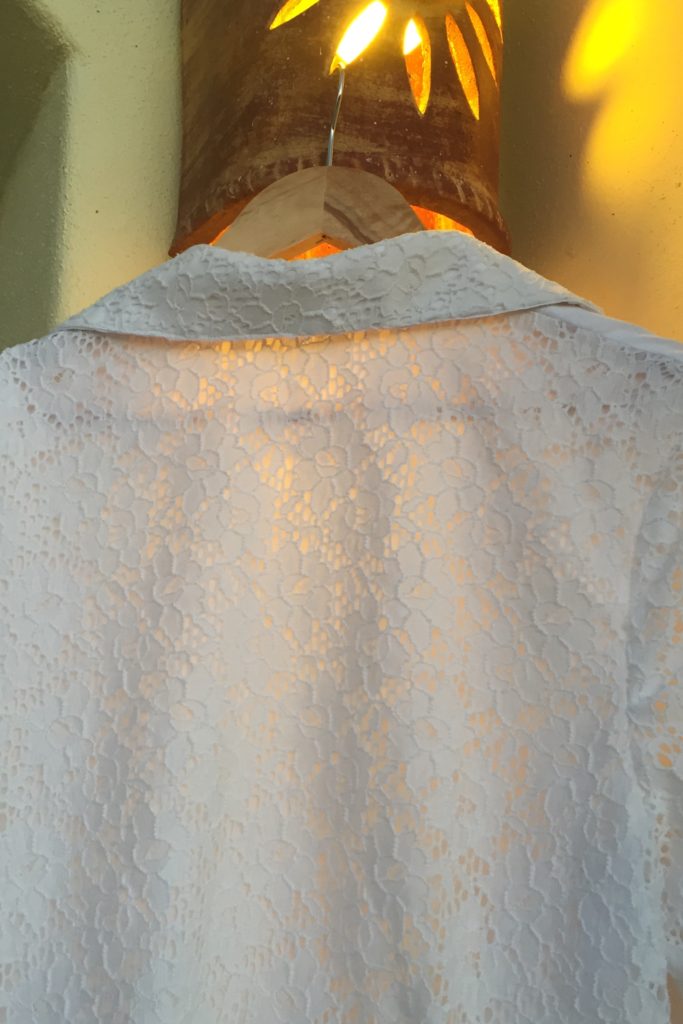 The sleeves are unlined lace. I pondered how to handle the cuff and decided to gather the sleeve into a linen cuff. A standard shirt sleeve placket would be a ROYAL pain in the ass, and would be too hard against the lace.  The cuff I made looks nice. It is loose enough to push up the sleeve. The contrast of the solid cuff against the unlined lace is a favorite look of mine.
Now the collar. It is four layers. Two layers of the cotton batiste, a layer of interfacing and then the lace overlay. It became a little bulky!  This needed careful pressing, and a lot of pressing. Just before the final press, I  secured the inner collar with double-sided (adhesive) stay tape. This is magical stuff. No pins needed in tight places, and zippers. It can get all over your iron if you are not careful…
I pressed it on, peeled off the paper. Pressed the collar down. Sewed it in place. Then came the disaster! I was pressing the collar stand. And aaaaaaaaaaaaaaaaaaaaah! Ugly brown oozy sticky gunk transferred from the iron to the center front of the collar band. I should have used a press cloth. And My Beloved had given up one of his big man-hankies for that purpose. But, I was in a hurry. I do not have any idea why I was in a hurry. But that few seconds of reaching for the press cloth would have made a BIG difference.
My sweet Beloved who does the laundry around Casa Fogel tried all of his magic tools and could not get it off. I was broken-hearted. He was broken hearted. I just had no idea what to do.
And Suz my feminist Guardian Angel with the messy hair and dented halo had been missing for weeks.  I think she met another guardian angel and they went off to surf at Sayulita. She returned to help me think up a way to save my blouse. But not without aggravating me first.
Faced with what seemed like an insurmountable problem I did the only thing one shoulddo in this situation. I took a siesta. While soaking up the silence and tranquility of the guest bedroom I let my mind consider the solutions. Then I felt a warm breath on my ear. Brain-fogged from sleep I first thought that one of the dogs had snuck in. Then I thought it was My Beloved. NO! it was Suz. I was right she had gone surfing. She was tan, and her messy hair was sun-bleached golden. I swatted at her and tried to grab that silly halo. She flitted away., but not without planting the solution to my mucky collar.
And here is what I did. I cut a medallion of lace from some leftover applique and handsewed it to the inside of the collar band. I did this only on one side. A design line. It is hardly noticeable. It covered the mess. I love the blouse.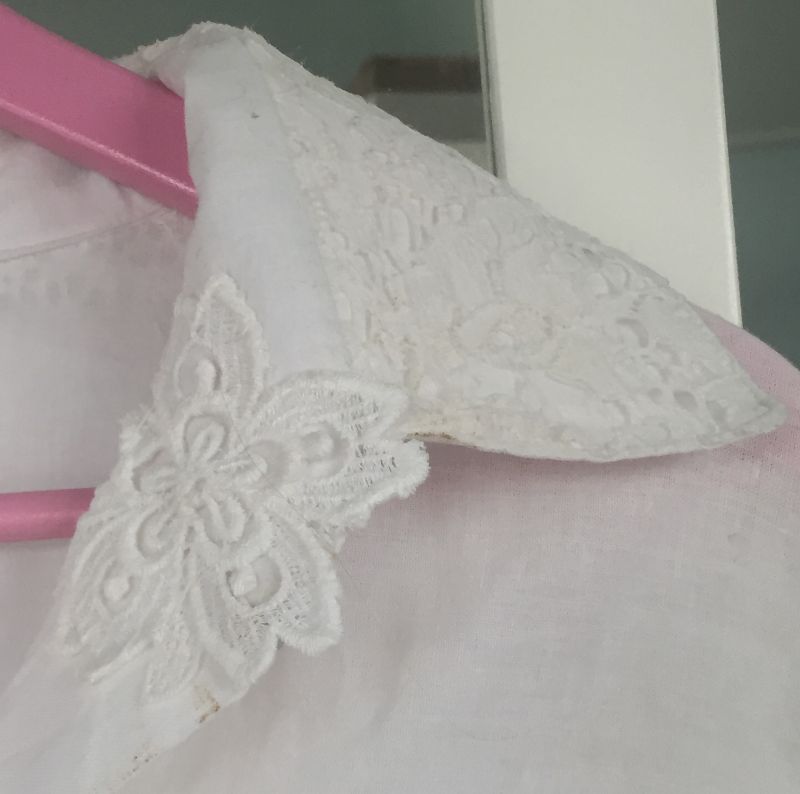 And finally, here is a composite of  the front back and sleeve. I have no idea why the collar points are curling up. They did not do that the first two times I wore the blouse. But it has been washed and awaits a clean iron …