the buttons are not tight, they are gaping because of my arm position
To me, sailboats are East Coast, and surfboards are West Coast.so when I was up in Vancouver, B.C. last summer and I saw this fabric, I saw surfboards.  Well look at the bottom border, on a quick glance they look like surfboards, don't they?
There was a cute display of mother/daughter  dresses made from this fabric. I loved how fresh and summery and surf boardy it looked.
 Here in La Paz, you see sailboats everywhere, on anchor, underway  with sails billowing, on the hard, on a trailer coming out of the water or being launched. Yet I focused on surfboards, and unless you are doing stand up paddling, you cannot  use a surfboard in La Paz, we don't have waves.
The bolt was laying on the cutting table. I got in line at the cutting table with all of my fabric choices, and asked for five meters of the "surfer" fabric.
 A very nice woman in line behind me said that she had put the bolt there and wanted to make the mother/daughter outfit for herself and her daughter.
 "Oh, I am sorry," I said," I will wait till you have your fabric cut and then I'll take what is left."
 "No, No, " she responded, "You take what you want and I'll take what is left."
 We went around a few more times, when I just said, "No, you have to take what you want, and I am happy to take what is left and I will not argue, please take it."
So she did. Canadians are just so nice.
 I purchased what was left on the bolt. Took it home and put it in my cupboard.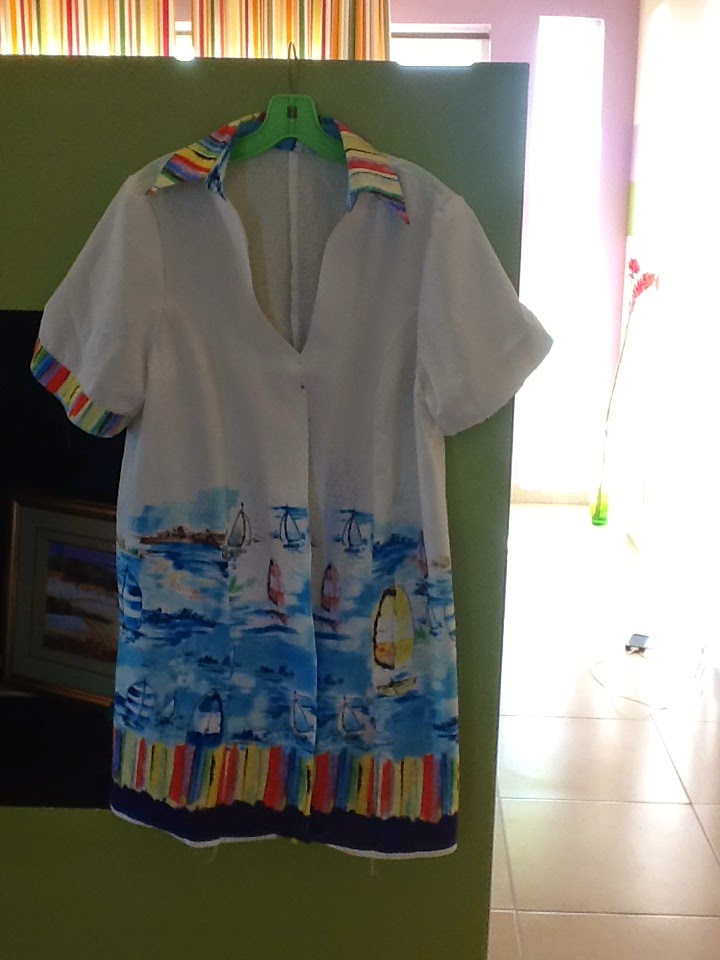 I dreamed about the fabric and had more than one design in mind for it.
 Somehow I believed it was surfboards and that I had 5 meters.
 Last Saturday I decided I was going to cut the fabric. 
 What a surprise, not only was it NOT surfboards, but it was barely 3 meters!
The pattern is a Lekala style # 5558
The line drawing doesn't do it justice. It is a very nice princess seamed shirt dress and it lends itself beautifully to this border print.
 I like the  collar and cuffs on the sleeves. the brush stroke stripes ( surfboards) add a nice lift to the white section of the dress. I had originally cut the sleeves in the blue border print. But two things happened:  the shape of the sleeve was pegged and therefore too tight. and the print just seemed like too much for my small frame.
 So I used the sleeves from my TNT  blouse and made cuffs from the bottom border.
 The buttons are alternating yellow,  and blue. The yellow buttons are  a gift from a friend's mother hwo knows I have a hard time  finding buttons, she brought them to me from Manitoba. 
The blue buttons are from my stash and I have had them over 20 years!
 I am hooked on Lekala patterns. Look at the fit. The sleeves are perfect, the dress skims my curves and the lenght is right on.
 I have plans to make this out of a chambray, and for winter in denim.
The fabric is soft  and cool and doesn't wrinkle much. 
 I was not sure I really liked the dress on me. I sent photos of the unfinished dress to two PR friends and to my daughter.
 The two PR friends were so-so in their applause. My daughter loves it,but suggested that I weara bra! I was wearing a bra! So I went online and ordered three new bras.
We go to breakfast every Saturday with the same coupleat the same restaurant and have a standing reservation at our table.
 I was just arriving, Patricia was behind me, and she whistled at me, saying my dress was beautiful.
 On my  way to the bano ( bathroom) the owner of the restaurnat stopped me to say she LOVED my dress! So did two waitresses. And at the Farmer's Market later that morning others told me how cute I looked.
 So, I now love this dress.
I am sure that the lovley, colorful border print is what has attracted everyone. Or maybe it is my sparkling self?
 I am planning to make some very light cotton tap pants to wear under summer dresses. Sticky, sweaty thighs  are no fun.
 I do carry a purse sized can of baby powder, but it is not  easy to discreetly powder one's thighs while dining!  And the dental floss that some gyrls call panties , well,  I could just never understand having a string riding up my crack.
Here is a photo fo my frshly groomed foot at the beach north f our house. On occassion in February we will be blessed with  small soft waves and can splash around.
Yes that looks like a wave out there, but it is maybe 18 inches high!