Susan Sews  A Denim Dream
While I was searching for the photos to upload for this post, I saw one in my photo stream called Denim Dreams!
I don't usually wear jeans. And find denim "jean" skirts and "jean" jackets heavy and constricting. Too much top stitching. Big pockets on the derriere and tight fits. These all combine to make uncomfortable garments.
But I do like denim. I especially like deep Indigo blue 100% cotton non-stretch denim used in other types of garments. Trousers with wearing ease and real style. Coat dresses and the jacket that I just completed for the Pattern Review Denim Contest.
And that is what I am going to tell you about today. A lovely jacket.
When I received the supplement from Lutterloh containing this pattern I made a note on the fashion illustration page; "Love this jacket."
I envisioned it in a good quality Indigo Denim. I carry around in my head many of the patterns and the fabrics I have in mind for them. And as other projects are completed, or a reason to make the pattern, like a contest, pops up, then the particular pattern is moved ahead on my mental To Do list.
Take a long look at this jacket. The high shaped collar and the deep above the bust pleat are elegant design lines. This silhouette captured my imagination and stayed far down on my list waiting for the time to be right.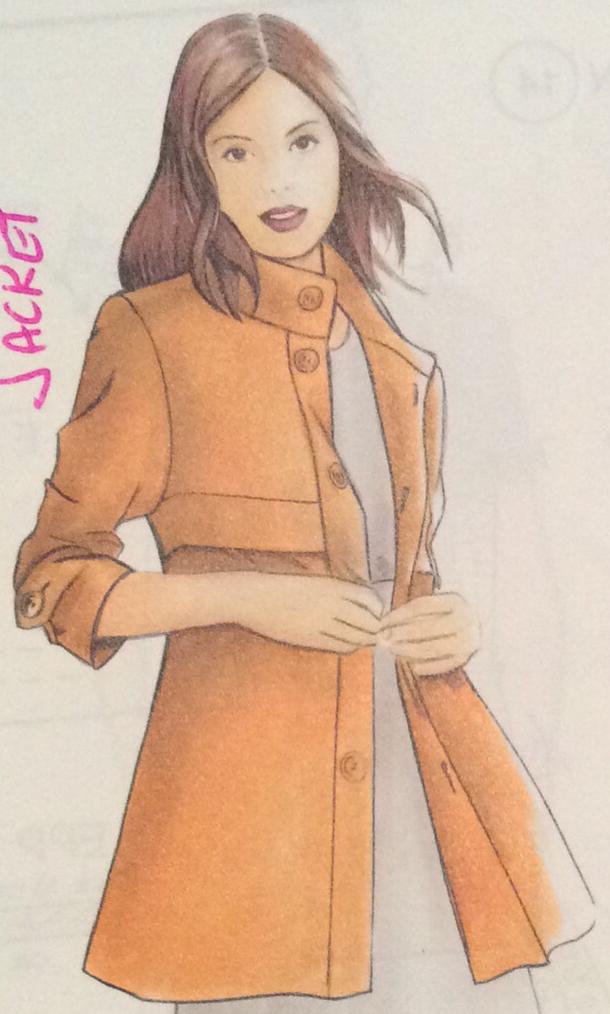 I drafted the pattern. Pin fit the paper pattern. Measured the crucial points and deemed it ready to cut.
When I folded the pleat in the down position which is how it should be. There was excess fabric in the armscye. I panicked and folded the pleat up. Now my elegant pleat was merely a seam. I top stitched it. I made patch pockets that were not included in the pattern and added the pleat detail. I top stitched them in white. I did the same for the back pleat. Sewed the shoulder seams and took a good long look, meh. Nothing special here. And the white top stitching looked cheap. But I thought that the addition of the button bands and collar would elevate the style .No, nada, no elevation, no style. But guess what? I had top stitched the button bands. But in navy blue. I hung up the jacket and had a ponder.
"Ok, Susan, you just have to take it all out, and start over." Said I. I removed the pockets. Removed the top stitching at the pleat line and opened up the top stitched button band seam for about four inches above and below the pleat line. I carefully chalked in the pleat. Folded it down. It looked so lovely. I carefully cut away the excess fabric at the armscye and felt pleased and proud.
So then, I guess it was bling-itis that possessed me. I added gold braid at the collar seam. I added fringe at the pleat line front and back. And just for good measure added fringe to the pockets. I had also chosen BIG FAT GOLD DOME buttons. Feeling pleased and a little nutso, I stopped for lunch. I took a swim.
And then somethings shot through my brain. The word Elegant! The word Simple! The word Clean! All three of them were swirling around me and each entered my sun and pool relaxed mind.
The message was clear: "No Bling! No Fringe! And most definitely NO BIG FAT GOLD BUTTONS!"
Somehow the original image of this elegant jacket that I had kept on my mental To-Do list had become warped and morphed into a giant nightmare of trendy bad taste.
Seam ripper at the ready, I poured some red wine, turned on the news and gleefully removed each and every bit of gold braid and fringe.
Here are some details of the finished jacket. The button on the collar is a pretty turquoise and gold jewel. I loke to always add a little surprise for myself.
And now you can see the original idea come to life. Bring on those two days of cold weather in January so that I can wear this!
It is still really hot here in La Paz. And to complete the look for the photos I wore a long sleeved top. Long pants and closed shoes. I was roasting!
This is Lutterloh supplement 304 pattern 14.
If you are a member of Pattern Review. Please visit my review, and make a comment there. And remember to VOTE for me!
With Love, Susan