Summer is upon us,and that means wear as little clothing as possible. I have had this lovely crocheted lace in my stash for years. I have made a blouse entirely out of the lace. I still have it, but it is 100% see-through. I have also had this dotted  cotton just as long. What  lovely combination they make. And light as air. I mean this pretty blouse just floats off my shoulders. I feel as it I am wearing nothing!
Oh and the skirt, I do not wear skirts often. Yesterday I kept feeling my petite derriere to check and see that it was covered. Walking around in a skirt, I felt as if I were wearing a backless skirt. And I was still hot! More short skirts are on my sewing menu. This blouse is also contribution to  my friend's blog. Fonnell and Ann  are having  a Vintage Sewcial. No contest, just some fun. If you want to see what they are doing please visit their blog Come Sew Lutterloh With Me.
Their blog has a wealth of info about Lutterloh patterns. And this blouse may   be my entry into the Pattern Review Vintage Pattern contest. I really do not like it that 1980 is considered vintage.
Here is the pattern photo.
It is 1980 pattern. Western wear and the Urban Cowboy look  was in full swing. Instead of adding lace to the edge of the yoke and sleeves, I made them  totally in lace. No cowgirl boots. No Annie Oakley holsters, just a little lace.
And here is a  photo of  the blouse under construction showing off both fabrics and my nice matching of the yoke. An no thanks to Suz, my guardian angel with the messy hair and dented halo. She was flitting about like Tinkerbell, wrapped in the fabric.  When I tried to grab her halo, she dropped the lace and disappeared. Do you know how slippery lace is when you step on it on a tile floor?  Well, I do know, and it is Not Funny when you are slipping and you grab your rolling  cutting table for support, and the leaf falls and everything including your magnetic pin holder goes crashing to the floor.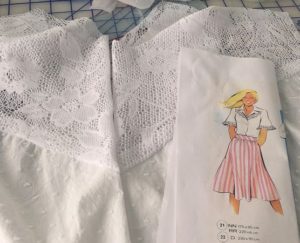 Just like a three- year old, Suz loves to play dress up, but CLEAN -UP is not in her angelic vocabulary. I also think that she is the Trickster that moves all of my scissors to the opposite side of the sewing room. Makes crucial pattern pieces disappear, and misplaces my other tools. It simply cannot be age or eyesight.
Like all Lutterloh patterns, the pieces fit together and it went together well. I like the gathered sleeve, it is roomy and great for airflow. But being an 80s style, there is a lot of room in the body  of this blouse. So much room that I made two waist fitting darts in the back.
In the next two photos I have teamed my new blouse with my white skirt  that I made for the skirt contest. I was not real happy with the fit. It was too big. So I carefully ripped out all of my top stitching, removed the waistband and because I had to taper and raise the waistline my cute little coin pocket had to go. The turquoise tank top is also a Lutterloh pattern that I made a couple of years ago. I have no idea why I have not worn it. I do wish that I had checked for proper tucking in of the top!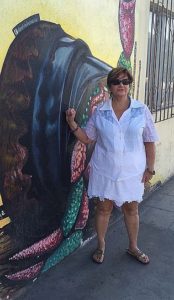 The photo on the left was  when I was freshly showered, groomed and caffeinated. The one on the right  was taken later in the evening. The wall art behind me in the right hand photo is a crab emerging from a camera lens. But there are Picasso like faces blended together. It was hot, I did not want to keep My Beloved standing in the heat too long . so no sweeping view of the mural. But we are going to a party at the bar. My friend Lei Tam, and Inez and Hector, owners of Karuna Rea House, and the as yet unknown-to-me owner of Bueno Bar are having a joint party of fine Asian food, excellent teas, and some alcoholic brew!
And because I like this look a lot, here are a few more photos. Suz is trying to tell me that I am behaving badly and showing off. She should talk.
Yes, I know that my buttons are nto evenly spaced. That is a design decision that I made for two reasons:
I always put an extra button dead center between the girls.
 I only had enough buttons decade appropriate buttons  that I liked to do it this way.
Thanks for visiting, Please leaves comments.
And here is a La Paz view: taken from my neighborhood.