Once last century when we were still in the Old Country, My Beloved was hanging some of my blouses.
He said, "You are certainly the Denim Queen."
I was puzzled by these words.
So I took a look in my closet. I had a chambray colored Nautica shirt, a denim Faconable shirt and an unknown brand chambray colored light denim shirt with some eyelet trim on the pockets.
"I guess you could say that." Said I.
But I also had four white shirts and several striped shirts. But the denim theme stood out for him.
All of these shirts made it to Mexico. The white and the stripes and the unknown chambray still exist. But the chambray is rotting away at the shoulder.  The Nautica and Faconable denim are long gone.
I have been lamenting the loss of those shirts. They were soft and supple, you know how good quality cotton ages. And I could toss them over almost anything and they looked good.
One day I stopped in at Bonanza my favorite fabric store in La Paz. And there stood two bolts of what they call mescla. They were gorgeous, soft chambrays! One bolt a raspberry pink and the other a very true blue.
It is the raspberry pink blouse that our story describes today.
I have also been captivated by lace insertions into the backs of blouses. Well by the mix of lace and other fabrics for a while.
Also at Bonanza I purchased a ready-made lace triangle that looked like a perfect applique for my chambray shirt.
I knew that this would be on the back of the shirt and that I would cut away the fabric beneath all or part of the applique. I assembled the shirt up to the point of needing the collar.
I then applied the lace. It was much bigger than I thought. So I trimmed parts away. To attach the lace I used  double-sided fusible stay tape. I ironed it on in various places under the applique and completely around the large center circle. The tape held everything in place so that there would be no puckers and bubbles. Stitching it down was easy.
Then I turned the shirt to the inside  and zig-zagged around the large circle. This was the only area of the shirt that I planned to cut away.
With all that drama on the back, I did not want to overdo the front. But it looked very dull to me.
My first idea was to use some of the scraps of the applique to embellish a front pocket. NO! That just looked awful. I felt that I would need a big Stetson and an American flag made of rhinestones to complete the look.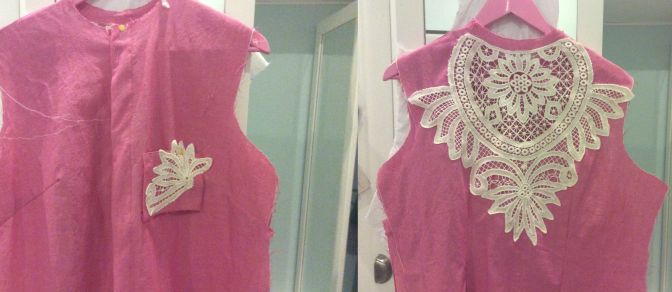 Soo off came the pocket.
I finished the blouse. Wore it out for coffee and felt really blah.
So I came home and added a pocket embellished with one of my new labels.
That was just enough to save the front from dullsville.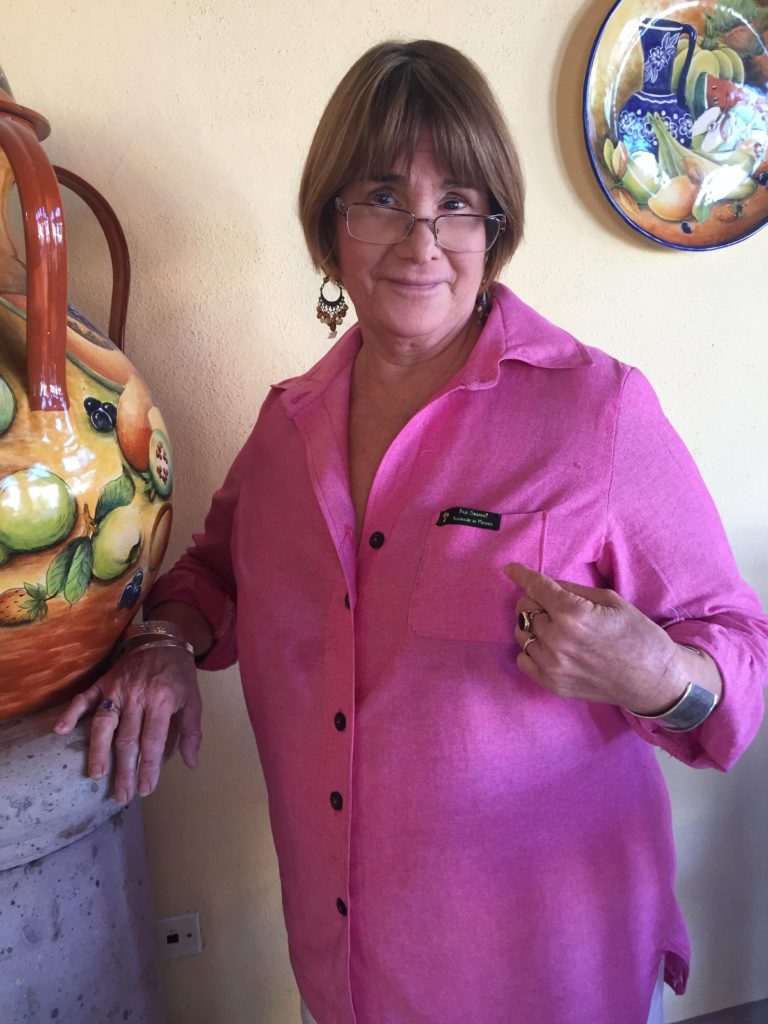 And once again, I used Angela Kane's elegant sleeve placket technique.
My feminist and sometimes very bossy Guardian Angel, Suz , just returned from surfing in Sayulita suggest that I make some denim short-shorts, really short she said, with the pockets hanging out of the front. Then she  said " Those are probably not appropriate for someone YOUR age."
She said that. MY Guardian Angel. The mouth on her!
I grabbed for her dented halo. She flew backwards hit my rolling mirror, which careened into my cutting table. The 25 year old table with the weak leg. The leg collapsed, the leaf went down with a bang, and my magnetic pin cushion sailed down and rolled and bounced spewing pins everywhere. Suz cackled and flapped her wings from atop my nine-foot high fabric cupboards.
Well I guess not believing anything else  stuffed down my throat in Catholic school; and loving the concept of  a Guardian Angel  means that I get a Guardian Angel just like me!
We both rejected religion. And Suz was lucky to find me.
I know that she thinks it is the other way around.
In a few days, I shall interview her. Once the margaritas and ceviche have left her system and she is a touch calmer. She would be a good subject for my blog.