In honor of recenlty past Valentines Day, I am finally reviewing my Lutterloh, red faux wrap top. I will write a review on Pattern Review as well.
Yesterday, my Beloved came back from walking the dogs and found a lovley box wrapped in hearts and ribbons inside our gate. He brought it in and told me my secret admirer had left me a surprise.
Surprised I was. I have no idea who would have left this lovely treat. "Do you think it is a bomb?" I asked, he scoffed and said "This is Mexico, not the US!"
I closed my eyes, and pulled off the ribbon and plastic wrap. No explosion. It was full of the best Mexican cookies. I had strayed a little from the straight and narrow of my new eating habits at dinner on Valentine's Day, so I figured the cookies were not so bad. In fact they were delicious.
What a nice surprise!
The box was wrapped in clear plastic with a lovely red bow and a gift tag with no name.
Last month we had some fun sharing our animal print garments for Jungle January.
I made the dress in the pattern pictured below in black ponte de roma with cobalt blue and black faux leopard print bindings. When I tried on the bodice I loved the look and declared
" I shall make this as a top. I love the fit!" I never miss an opportunity to add trim, or contrast colors or to mix prints. I just cannot leave well enough alone.
I had purchased an oddly shaped pieced of a wonderful red and white striped four way stretch cotton knit. It was a high quality sumptuous
fabric. My favorite fabric store here in La Paz has tables piled high wit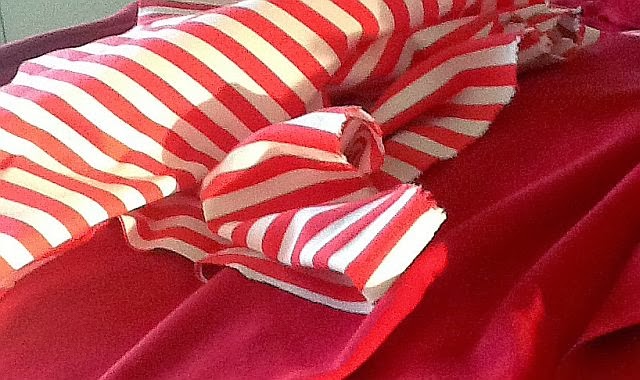 h knits that Jaime the owner must buy in bulk when he goes fabric shopping in Los Angeles. I was in love with this fabric. My ever-patient and supportive Beloved agreed to help me dig through the piles of knits for another piece of this luscious stuff. There wasn't the smallest scrap. not a square, not a three inch piece, Nada! I bought the odd piece and have used it on my Red Faux Wrap top.Here is the top on a hanger:
Note the red and white band on the bottom. It looks wonderful nez pas? There are even little bands of striped trim on the cuffs.
I could not wait to wear this beauty. The red fabric is a wonderful cotton knit that was labeled "Otoman". Whatever it is, I love the hand, the drape, the color.
I was not so thrilled with the striped band on the bottom.
See for yourself:
The band accentuates body parts best left anonymous. I wanted to show off my weight loss.
I am not pregnant and that is not my belly button popping out. My pants are now way too big, and they were drooping and the snap on the fly front was sticking out.
Here is a little better view. I just did not like the red and white band on the bottom.
I cut it off and made a self fabric band. I saved the strip I cut off to use somewhere else. Did I mention I just adore this striped fabric?
Here I am at the Farmer's Market a few Saturdays past showing off the top with the plain red band
This looks much better. I love the top, and I receive many compliments. And I may be able to eke a tank top from the remainder of the stripes.
Just a tropical scene from my home. Those of you still dealing with ice, snow , cold and storms, there are places in the world where it looks like this!