This blog post is my review of the Lekala Ruched top. I was going to send this farther away then just to my Oh Shit drawer. I sent some photos to my good sewing friend on Pattern Review. I told her the fate of the top was in her hands. if she thought I looked like Aretha and the bombastic Boobs, it was outta here! I sent two photos in separate message. her first message was: "trash it", but save the buttons. Her next message was, that with a better photographer, the top looked very nice.
so here I am giving Aretha a run for the bra department.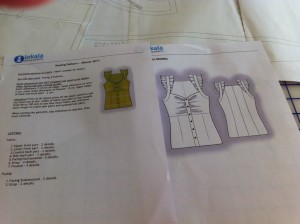 Pattern Description: Women's ruched top. Bodice shaping, and button front.
It took 17 pages to print the pattern pieces.
The photo on the left isthe line drawing and instruction page. The instructions are minimal, and done in poorly translated English.

Here is what the pattern looks like right out of your printer
Here is the page that shows you what the pattern pieces should look like when taped together:







Here it is: a Pattern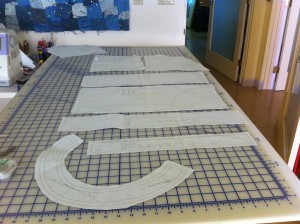 It took about an hour to tape it all together. It was fun, and I am sure it will be quicker with the next pattern
Well here comes the construction: I can rarely make a pattern as it is depicted by the designer.
I used contrast facings, and bound the top edge of the blouse front and back with black bias binding. Here is a tip:
Because of eye issues, I am not the ace top stitcher that I used to be. But I still like to top stitch. And when I am attaching binding I want my top stitching to be beautiful and do double duty to hold both sides of the binding neatly in place. So now I use a decorative stitch in matching or contrasting thread. It gives a nice finish and I don't have to worry about perfection. Here is some decorative stitching on the binding :
Here are the facings that I pinned like crazy to ensure a hassle-free sew on: this was my second attempt at the facings. the first time they were just too short and tight.
You do have to add seam allowances. I am comfortable with doing that since Imuse Lutterloh almost exclusively.
I use my SA curve ruler, it makes life easy. Since this pattern was printed without seam allowances and I many cases there was no room on the papers to add the seam allowances, I used chalk to mark the seam allowances directly on the fabric.
I made notes right on the pattern pieces. In case I am inspired to make this top again, I will know what changes I have made.
This top was not so bad to make, now that i have finished it, I am glad that I did. I recieve compliments when I wear it.


This was going to be part of my mini wardrobe collection, but the armhole facing gave me so much trouble, I tossed the whole project in my "maybe later drawer". I gave up too soon. I forgot that there was a 1.5 inch button strip to be added to the front. And without that extra inch, the armholes were not sitting right.
I decided to finish the blouse, and go back to the armholes. After I put the button strip on, the armholes were fine.
I felt that the top was too loose and looked baggy on me, so I tapered it to make it a more close fitting silhouette. Had to take almost 3 inches out of the center back. This also meant removing my decorative top stitching cutting the binding and reattaching it.
My artist friend did not like the black binding on the front, so we tucked it in a took this photo. No makeup hair needing a cut and style But the top is there for you to see. I have to lose a lotof weight, but in the meantime, i am sewing for the body I have and celebrating my curves!
The concept of Lekala patterns is simple and interesting. The price cannot be beat: they run anywhere from free to $2.49 US. If you register on their website, you receive a 10% discount. I have read many other reviews and looked at blogs about Lekala. Many SEWISTS have had great success with these patterns.
Lekala patterns have been reviewed on PR. I suggest that everyone try one.
I also think that I have completely exhausted red, black and white in my sewing.

So for honesty's sake, I show you the Bombastic Boobs Aretha version. I think that it is in the photography. I have not removed the binding, I am just too lazy. And I receive compliments, unsolicited compliments.
Perhaps what I see when I look at these photos and what others see are very different images.
My conclusion is , that I will always have curves, I just want less of them. And I know that fitted clothing looks better on me than loose bags.
I have one more top rescued from the Oh Shit drawer. And it is coming up soon.
And then two dresses that I love, and speak to my inner sexpot.